BOOK A TABLE AT MEDICINE CODSALL
Medicine Bakery + Deli, Codsall is open 7 days a week, Mon – Sun 8am – 5pm, offering our full deli service with takeaway menu as well as a limited availability of seats for our brunch & lunch menu. Shop our deli, bakery & fresh produce in store. Limited seating is available for those wanting just coffee & cake.
You can now book a table in advance at Medicine Bakery Codsall. If you do change your mind please cancel your table within 24 hours of your booking.
Please note that the Medicine team are doing everything we can to ensure social distancing and the correct measures are being taken.
We look forward to serving you soon!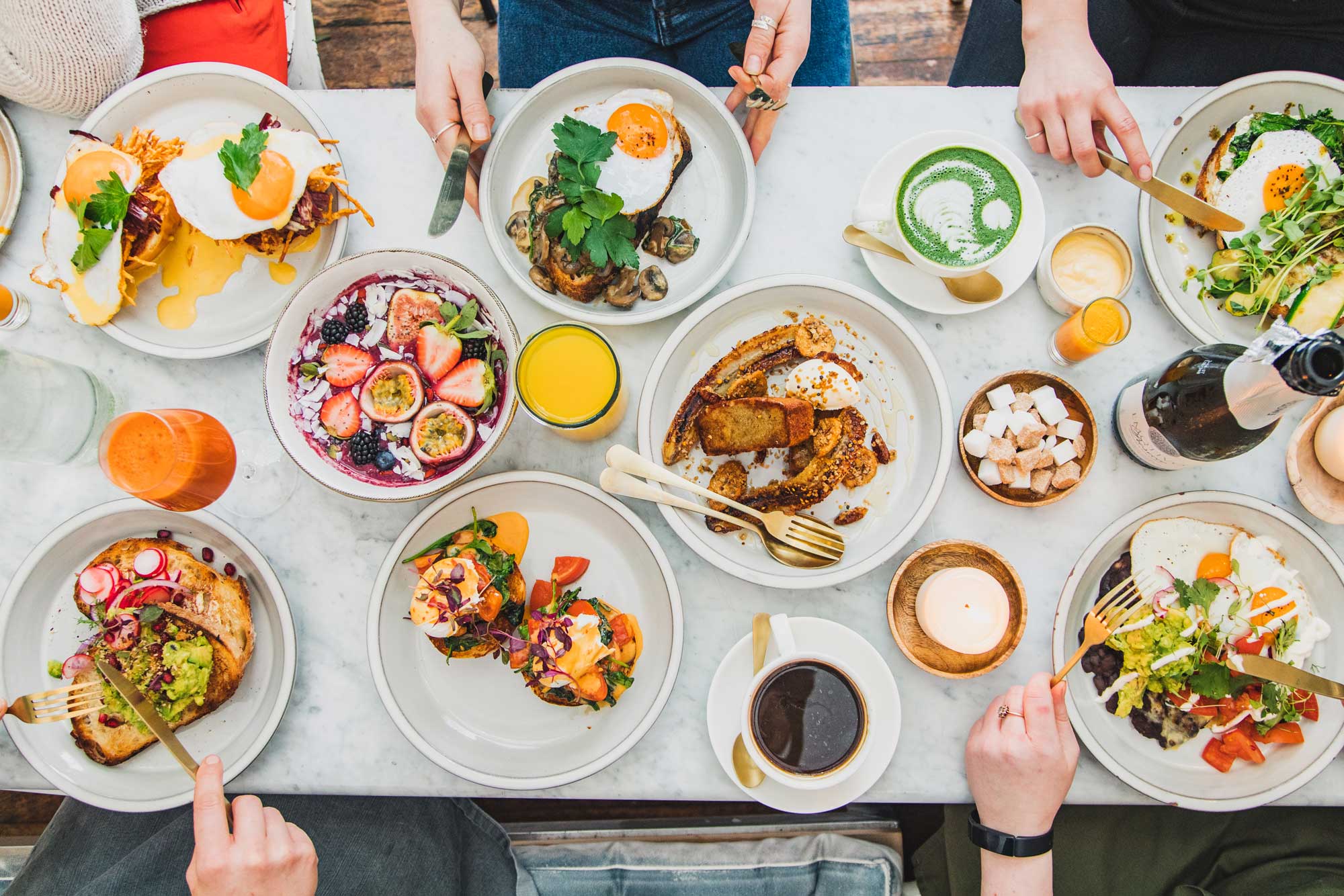 BREAKFAST BOWLS
Jumbo Oat Porridge 5 (v)
Granola Jar 4.5 (v)
ALL DAY BREAKFASTS
Classic Breakfast 9
Vegetarian Breakfast 10 (v)
Vegan Breakfast 10 (pb)
BENEDICTS
Classic Benedict 9
Salt Beef Benedict 11 (gf )
Harissa Benedict 10.5
BRUNCH
Free Range Eggs on Toast 4.5 (v)
Turkish Eggs 9 (v) (gf )*
Salmon & Eggs 9
Eggs, Avocado & Rye 7.5 (v)
Masala Eggs 6.5 (v)
Mushrooms on Sourdough 8 (v)
Medicine Huevos Rancheros 9 (v)
TOAST
Smashed Avocado 5.5 (pb)*
Pesto Ricotta on Sourdough 6 (v)
Homemade Beans on Toast 5 (pb)*
BREAKFAST SANDWICHES
Robinsons Sausage 5
Bacon 4.5
Medicine Breakfast Sandwich 7
Halloumi 7 (v)
Halloumi & Bacon 7.5
Falafel 6.5 (pb)
SWEET
Seasonal Fruit 9 (v)
Bacon & Maple 9
Banana Bread 9.5 (v)
ADD TO YOUR BREAKFAST
poached egg 1
fried egg 1
two rashers of bacon 1.5
two rashers of
streaky bacon 1.5
avocado 2.5
chilli jam 1.5
black pudding 1
halloumi 2.5
chickpea falafel 1.5
wilted greens 1
LUNCH
Middle Eastern Buddah Bowl 9.5 (pb)(gf)
Harissa Roasted Carrots & Halloumi 9 (gf) (v)
Ultimate Medicine Burger 11
Beyond Medicine Burger 12 (pb)
Nashville Burger 11
Korean BBQ Chicken Wings 6 (gf)
Aubergine Involtini & Green Sauce 7 (gf) (pb)
GRILLED CHEESE SANDWICHES
available for takeaway
Three Cheese Sourdough 4
Mushroom, Garlic & Comte 4.5
Croque Monsieur 4.5
Salt Beef Reuben on Rye 5
LITTLE ONES MENU
all dishes 5, include apple juice or milk, under 12s only
Full English vegetarian available
Cheese on Brioche Toast (v)
French Toast with Maple Syrup (v)
Scrambled Eggs on Brioche Toast (v)
Cheese Burger
Falafel, Toast & Homous (v)
SIDE ORDERS
Fries & Aoli 3.5
Side Salad 2.5
Coleslaw 2
BAKERY
White Sourdough  3
Granary Sourdough  3
Sunflower Seed Rye  3
70% Chocolate Brownie  3
Salted Caramel Brownie 3
Nutella Blondie  3
Rocky Road 3
Superfruit Flapjack (Pb) 3
Carrot Cake  3
Jam Brioche Doughnut  3
Honeycomb Brioche Doughnut 3.5
Sticky Toffee Pudding Doughnut  3.5
Croissant  3
Almond Croissant 3
Fruit Cake (Gf)(Df)  3
Sticky Toffee Banana Bread (Gf)  3
Raw Brownie (Gf)(Pb)  3
Pecan & Maple Bun   2.5
Chelsea Bun 2.5
Cruffin 4
Cronut 4
BRUNCH
Full English Breakfast 9
Medicine Breakfast Sandwich 7
Sausage, Bacon & Egg Brioche 6
Halloumi Brioche (V) 7
Halloumi & Bacon Brioche 7.5
Falafel Sandwich (Pb) 6.5
Smashed Avocado on Sourdough (V) 5.5
Granola Jar (V)(Gf) 4
Bacon & Maple French Toast 8
Banana Bread 9
LUNCH
'The Big M' Burger 11
Nashville Buttermilk Chicken Burger 11
Beyond Medicine Burger (Pb) 12
Korean BBQ Chicken Wings (Gf) 6
Middle Eastern Buddha Bowl (Pb)(Gf) 9.5
Three Cheese Sourdough (v) 4
Mushroom, Garlic & Comte (v) 4.5
Croque Monsieur 4.5
Salt Beef Reuben on Rye 5
DRINKS
Almond / Coconut / Oat Milk available +0.5
Americano 2.5
Mocha 2.8
Café Latte 2.5
Cappuccino 2.7
Flat White 3
Iced Latte 2.9
Chai Latte 3.5
Fresh Orange Juice 3.5
Green Goddess Smoothie 4
Very Berry Smoothie 4
BREAKFAST BOWLS

Jumbo Oat Porridge 5 (v)

Granola Jar 4.5 (v)

ALL DAY BREAKFASTS

Classic Breakfast 9

Vegetarian Breakfast 10 (v)

Vegan Breakfast 10 (pb)

BENEDICTS

Classic Benedict 9

Salt Beef Benedict 11 (gf )

Harissa Benedict 10.5

BRUNCH

Free Range Eggs on Toast 4.5 (v)

Turkish Eggs 9 (v) (gf )*

Salmon & Eggs 9

Eggs, Avocado & Rye 7.5 (v)

Masala Eggs 6.5 (v)

Mushrooms on Sourdough 8 (v)

Medicine Huevos Rancheros 9 (v)

TOAST

Smashed Avocado 5.5 (pb)*

Pesto Ricotta on Sourdough 6 (v)

Homemade Beans on Toast 5 (pb)*

BREAKFAST SANDWICHES

Robinsons Sausage 5

Bacon 4.5

Medicine Breakfast Sandwich 7

Halloumi 7 (v)

Halloumi & Bacon 7.5

Falafel 6.5 (pb)

SWEET

Seasonal Fruit 9 (v)

Bacon & Maple 9

Banana Bread 9.5 (v)

ADD TO YOUR BREAKFAST

poached egg 1

fried egg 1

two rashers of bacon 1.5

two rashers of

streaky bacon 1.5

avocado 2.5

chilli jam 1.5

black pudding 1

halloumi 2.5

chickpea falafel 1.5

wilted greens 1

LUNCH

Middle Eastern Buddah Bowl 9.5 (pb)(gf)

Harissa Roasted Carrots & Halloumi 9 (gf) (v)

Ultimate Medicine Burger 11

Beyond Medicine Burger 12 (pb)

Nashville Burger 11

Korean BBQ Chicken Wings 6 (gf)

Aubergine Involtini & Green Sauce 7 (gf) (pb)

GRILLED CHEESE SANDWICHES

available for takeaway

Three Cheese Sourdough 4

Mushroom, Garlic & Comte 4.5

Croque Monsieur 4.5

Salt Beef Reuben on Rye 5

LITTLE ONES MENU

all dishes 5, include apple juice or milk, under 12s only

Full English vegetarian available

Cheese on Brioche Toast (v)

French Toast with Maple Syrup (v)

Scrambled Eggs on Brioche Toast (v)

Cheese Burger

Falafel, Toast & Homous (v)

SIDE ORDERS

Fries & Aoli 3.5

Side Salad 2.5

Coleslaw 2

BAKERY

White Sourdough  3

Granary Sourdough  3

Sunflower Seed Rye  3

70% Chocolate Brownie  3

Salted Caramel Brownie 3

Nutella Blondie  3

Rocky Road 3

Superfruit Flapjack (Pb) 3

Carrot Cake  3

Jam Brioche Doughnut  3

Honeycomb Brioche Doughnut 3.5

Sticky Toffee Pudding Doughnut  3.5

Croissant  3

Almond Croissant 3

Fruit Cake (Gf)(Df)  3

Sticky Toffee Banana Bread (Gf)  3

Raw Brownie (Gf)(Pb)  3

Pecan & Maple Bun   2.5

Chelsea Bun 2.5

Cruffin 4

Cronut 4

BRUNCH

Full English Breakfast 9

Medicine Breakfast Sandwich 7

Sausage, Bacon & Egg Brioche 6

Halloumi Brioche (V) 7

Halloumi & Bacon Brioche 7.5

Falafel Sandwich (Pb) 6.5

Smashed Avocado on Sourdough (V) 5.5

Granola Jar (V)(Gf) 4

Bacon & Maple French Toast 8

Banana Bread 9

LUNCH

'The Big M' Burger 11

Nashville Buttermilk Chicken Burger 11

Beyond Medicine Burger (Pb) 12

Korean BBQ Chicken Wings (Gf) 6

Middle Eastern Buddha Bowl (Pb)(Gf) 9.5

Three Cheese Sourdough (v) 4

Mushroom, Garlic & Comte (v) 4.5

Croque Monsieur 4.5

Salt Beef Reuben on Rye 5

DRINKS
Almond / Coconut / Oat Milk available +0.5

Americano 2.5

Mocha 2.8

Café Latte 2.5

Cappuccino 2.7

Flat White 3

Iced Latte 2.9

Chai Latte 3.5

Fresh Orange Juice 3.5

Green Goddess Smoothie 4

Very Berry Smoothie 4